Flyers and Creators
Our flyers and posters have become an absolute must-have over the years. Not surprisingly since they are all especially custom made for Wasteland by very renowned artists such as Fritz Kok, Micha Klein, Carli Hermes, Tony Ward, Marc Lagrange and Erwin Olaf.
FRITZ KOK has been responsible for our first flyers, black and white drawings of supersized hunks and überbimbo's. Later on they became full colour. His flyers and posters had a mayor impact. We have put down some samples, as to give an idea. Fritz started in Los Angeles at Maxfield. Later he met photographer Brad Branson with whom he started a new style of fashion illustrations in LA, called Industria. A combination of futurism and Bauhaus Constructivism. Back in Amsterdam he worked with great success as an airbrush artist, making cyber art and somewhat surrealistic drawings. Later on he has shifted his focus more on photography. Fritz worked for magazines as Time-Out, Dutch, Diva, Tempo, Manipulator and Man. He made several CD covers, and works for companies such as Swatch, fashion designer Thierry Mugler, Bavaria beer and Philips.
www.fritzkok.com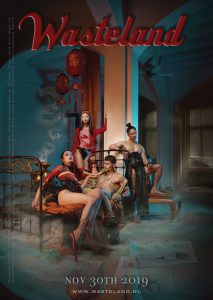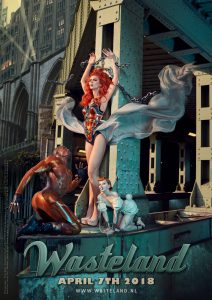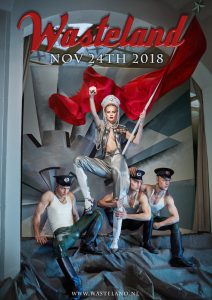 MICHA KLEIN The pictures of Micha are computer prints. Morphing models has become one of his trademarks. He works with a paint box and graphics for 3-D. Producing graphics is actually no more than a "hyper advanced collage technique" so he says. With 3-D one can build more, and stimulate mirror workings. By which it is possible to produce endless effects that could not be established with normal photography. Micha Klein is inspired by the culture of comic strips and video games. In his work innocence goes hand in hand with discomfort. Klein also makes animation's on music, which he play's as a VJ in clubs and sometimes at the Wasteland. Micha had a mayor exhibition in the Groninger Museum in the Netherlands.
www.michaklein.com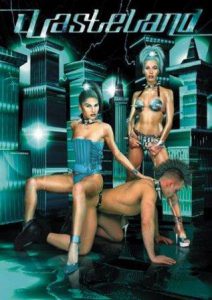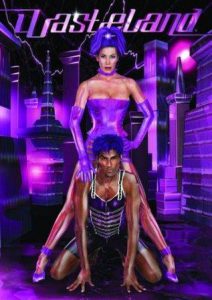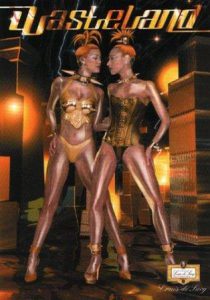 TONY WARD's  photographic imagery unites his primal love, erotic art, with his perennial passions for fashion, design, and portraiture. Ward's fine art is widely collected, and he exhibits in galleries in America, Europe and Asia. Ward's graphic meditations on his favourite themes, style, fashion and human sexuality, are both groundbreaking and accessible. His work has been published in vanguard fashion magazines such as Spoon. Fashion and portraiture have been an integral part of Ward's repertoire. Prestigious magazines such as Style Monte-Carlo and German GQ are publishing Ward's fashion pictorials.
www.tonyward.com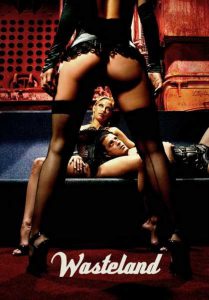 ERWIN OLAF is one of the best known and most over-the-top Dutch photographers of this day. He lives a passionate, lusty affair with life, enjoying it to the fullest extent, a true gastronome of the art of living. Over the last 25 years, he has evolved from a photographer who captures reality to a director who creates it; either way, the depicted reality is one filled with humour, imagination, sexuality, and exuberance, raising issues of freedom, beauty, loneliness, and difference.
www.erwinolaf.com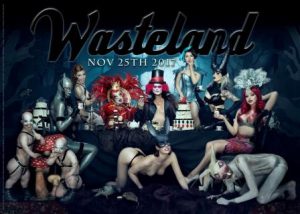 GERARD WESSEL succeeds in making the most extreme extravaganza seem natural and familiar. Wessel never photographs 'freaks and weirdos', he photographs a world. A world in which, for a moment, New York shrinks to become a suburb of Rotterdam, in which Cubans are seen frequenting traditional working class Hague cafes; a world where Ibiza could have been the name of a clothing line and in which a fetish queen from London is related to a GoGo dancer in Oldenzaal.
http://www.gerardwessel.nl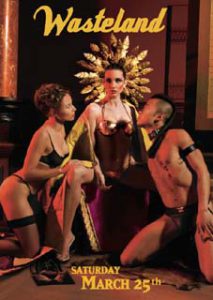 EDLAND MAN Born in Utrech in 1957, Edland Man attended the Minerva Academy of Art in Groningen. He specialized in photography, painting and fashion illustration, and for his final year went to Milan, where various Italian fashion magazines commissioned illustrations from him. After graduating in 1986, Man returned to Milan to establish himself as an illustrator. Within a few years, Man was doing photography assignments, a genre on which he concentrates more each year. Currently, in addition to fashion illustration and photography, his work involves television and video advertisements. He now also lectures at the Rietveld Academy of Art in Amsterdam. Edlan worked for Avant Garde, Avenue, Blvd.,Cosmopolitan, Donna, Elle, G.Q.,Max, Photo, Vogue.Free-eye magazine, Eyemazing magazine, Vanity, and more
www.edlandman.com
CARLI HERMES (born April 23, 1963 in Schijndel), is a Dutch photographer and director. Carli Hermès studied photography at the Royal Academy of Art (The Hague) and The Arts Institute at Bournemouth in England. He became international known with his commercial photographs for brands like Martini, Swatch, Levi's, Mexx, Nike, WE, Philips, Sony, BMW, Suitsupply and Mercedes Benz. In addition, he also made several fashion reports for known magazines like; Dutch, ELLE, Zoom, Max, Black & White, Madame Figaro en Avenue. He also photographed internationally famous people such as Edgar Davids, Inge de Bruijn, Leon de Winter, Natalie Imbruglia and Rutger Hauer.
Besides his work as a photographer he is also active as a director for commercials and videos for brands like; G-star, Royal Club, Marco Borsato (Dutch singer) and the Dutch Railroad compagny. In 2006 and 2007 Carli was a member of the jury of Holland's Next Top Model.
www.carlihermes.com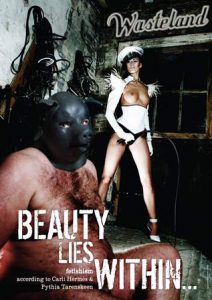 MARCEL VAN DER VLUGT  (1957) has often exhibited his work, both within the Netherlands and abroad. His photographs have been on display in, amongst others, the Photo Museum at The Hague, the MCA in Chicago and in the Louis Vuitton Gallery in Tokio. His beauty and fashion series have been published in various international magazines and he has filmed and taken photographs for numerous international advertising campaigns.
Van der Vlugt has won several awards, amongst which the ADCN Lamp for Best Photography and a Gold Lion
www.marcelvandervlugt.com
FOTOFLOOR,  Floor Stoop (1972) was born in Holland and graduated 'cum laude' in Antwerp, Belgium. She worked as a photographer in Berlin, Milan, New York, Paris and Peking. Now she lives and works in Amsterdam. Her work varies from fashion and beauty to portraits of celebrities, commercial work and art projects. In 2005 Floor grew into a partnership with Mike van der Giessen. Photos of FotoFloor have been published in magazines like AvantGarde, BLVD, Cosmopolitan, Dutch, Elegance, Esquire, Grazia, LINDA, Playboy and La Vie en Rose and many others..
She's won several prestigious prizes throughout her career like 'the greatest picture contest in the world ( American photo, NYC). Floor is selected as winner in The Coca Cola Light 'Seduction 2005', Nuperspective, Toni & Guy award London, and her pictures won in various coiffure-awards
www.fotofloor.com
MARC LAGRANGE The renowned Belgium photographer Marc Lagrange was born  in 1957 in Kinshasa – Congo. Lagrange, best known for his artistic nude portraits, which were described as refined, sophisticated compositions, evoking beauty, sensuality and imagination. His work pays homage to female beauty. The release of his book Diamonds and Pearls in 2013 meant his major breakthrough. The work was published in more than 80 countries.
www.marclagrange.com 
DJOJO & VERSTEEG  consists of two young artists who formed a duo during time in art school. Rik Versteeg graduated in 2013 as a photographer and Danny Djojosoedarmo is a self-educated make-up artist and stylist. By combining forces, they found a way to complement their skills. Using multiple techniques and combining them into one, the staged photographs produced are a whole new world questioning the fine line between fiction and reality. By using this technique it is possible to integrate different materials and preserve the tactility of these materials. The images you see are actual real-life decors photographed in such a way it feels surrealistic.
www.djojoversteeg.com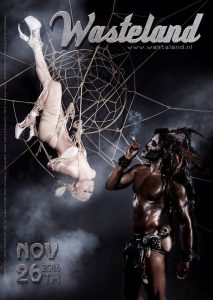 FERIET TUNC  Independent Photography Professional.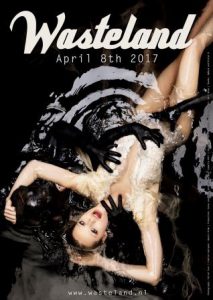 DOMEN / VAN DE VELDE The artistic duo have been working together since 2010 and are known for their work in beauty, editorial and conceptual. Behind their work is a huge passion for conceptual expression, culture and history. They worked for several international magazines and fashion brands with a sharp focus on their vision. Amongst their clients: Vogue, Harpers Bazaar, Dolce & Gabbana, Chanel, Louis Vutton, L'officel, Glamour and more
ROMY TREEBUSCH Her simultaneous aversion to – and an admiration for beauty is what gives Romy her photographic raison d'être. Romy's fascination often puts her under her subjects' skin – almost literally. Her process brings a beautiful, almost mysterious vulnerability to her images, leading viewers to linger with her work for much longer than feels comfortable. But hey, that's ok! She often shoots in black and white, but she's a master at working with warm and intense colours too.