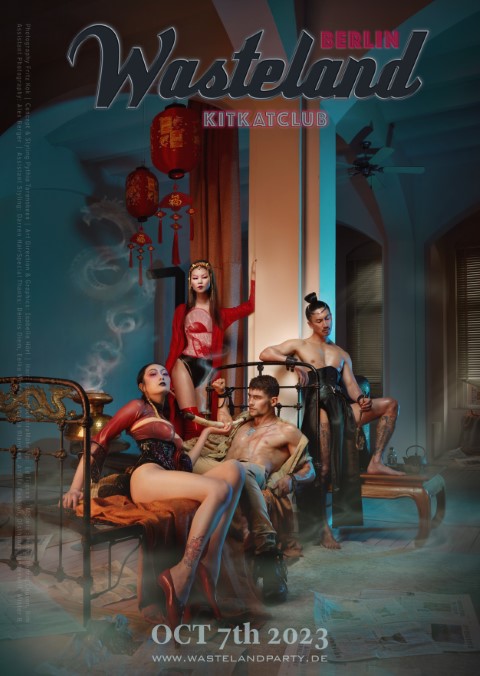 Wasteland presents the "Berlin underground edition" October 7th in 2023. Positioned in the almost perfect "Zeitgeist" setting of the legendary KitKatClub
DJs
Robert Babicz <Babiczstyle> | Lucien Foort <Wasteland Amsterdam> | Micky Markowitz <meshugge bar> | Ben Manson <Less Drama More Techno | Paris> | G-Double-E <Wasteland Amsterdam> | Criss Source <hugs'n kisses | BlueFin Records> | Der PUK <KitKatClub> | Niko Incravalle <KitKatClub> | Felix F/X <KitKatClub | Walfisch> | KBeat <Ambient> | and more….
SHOWS
Marnie Scarlet <London/magic stage> | Hell Babies! <Berlin> | Vitor Stilt-Walking Gang <São Paulo> | Alex Dermatis <Surreal Bondage | KitKatClub> Indigenak Suspension <Berlin> | Hysterical Poetry <Amsterdam> | Mystic Tribes <Paris> | Joey Love <Berlin> | Sletlana + Jorge <Amsterdam> | Marshall Arkey <London> | Jade Lee <London> | Mistress Iris <Amsterdam> | Pop my Ego <Budapest> | Wound Kisser <Copenhagen> | Candy Boys + Girls <interactive> | Shoe Shine Slaves <interactive> | and more….
VISUALS
Run Paint Run <Wasteland | Amsterdam>
FETISH FASHION SHOP
The Code Berlin | thecode.berlin
FETISH FURNITURE
provided by Dark Side Club Berlin
KITKATCLUB CATERING
provided by Gorilla Barbecue
OFFICIAL WASTELAND BERLIN PHOTOGRAPHER
Anton Tal <Berlin/Tel Aviv>
Dress Code
Wasteland has a strict dress code. We expect our guests to expose creativity and fantasy into their outfits. The dress code is vigorously checked by our Doorbitches. There are no ticket refunds if the
dress code is not adhered to. The decision of the Bitch is final!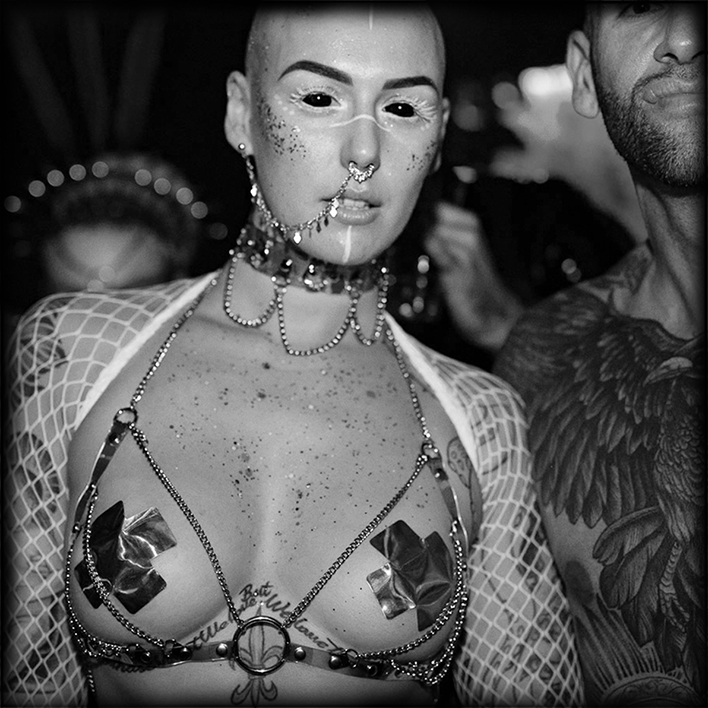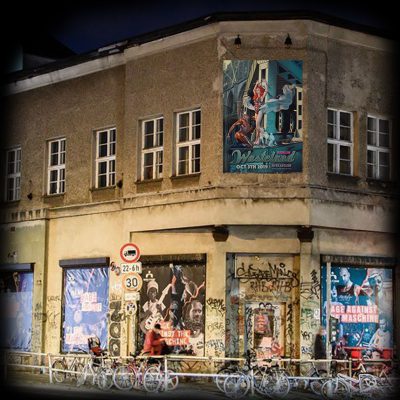 Location
Kitkatclub
Köpenicker Straße 76, 10179 Berlin, Germany
4 dj floors, 3 show stages, visuals, special effects, dungeon, lounge,  chill area, massage, blacklight Bodypainting, catering, fresh fruit service, cotton candy, pool, smoking area, first aid, and more…
'An obscure enticing fantasy
which triggered my imagination
and made me a true believer.'
MASSAD Magazine (NL)
'Cirque de Soleil meets
Marquis de Sade.'
Girls and Corpses (USA)
'Amazing and Awesome event
where creativity runs WILD!!!!'
Marnie Scarlet (UK)
'Probably the wildest
Party on Earth'
Penthouse Magazine (USA)
'The Super Bowl
of fetish.'
Sexcetera (USA)
''Ever since its inception in 1994
Wasteland has become the party
of all parties worldwide'
Eros Guide - London (UK)
'A pansexual
pilgrimage'
Time Out Magazine (UK)
'Wasteland is a dress-up party
for adults who come true for
their deepest desires.'
Nieuwe Revue (Nl)
A lot is allowed during an evening at Wasteland "That was the person's great wish, he wanted to be a living doormat."
Vice (NL)