April 6th 2019
If you dare to be different… If you are without prejudice… If you love living on the edge… If exploring your wildest fantasies makes you tick …
WASTELAND – Europe's biggest fetish fantasy event.
In the year 1994 Wasteland brought Fetishism out of the darkness of the underground and mixed it with house music and spectacular, often innovating, entertainment. Wasteland is Europe's most notorious adult playground where the fetish lifestyle is celebrated and applauded. A place with the freedom to be who you want to be.

Photography: Domen / van de Velde | Concept & styling: Pythia Tarenskeen | Art direction & graphics: Isabelle Hörl | Hair : Jo + Jo | Make up : Yvonne Nusdorfer | Models: Maria Oosterveen and Ronald Pony | Thanks: Dennis Diem, Pleasurements and Mr B.
WASTELAND  BEASTLY EDITION 
Date : Saturday April 6th 2019
Venue: North Sea Venue
Address: Hemkade 48
City: Amsterdam / Zaandam
Time: 22.00 till 06.00 hour
Tickets: 52,50 Euro (Presale ex. fee)
LOCATION : Four dance floors, Six stages, Smoking area, Restaurant, Lounge, Relax area, First aid, Fully equipped dungeon and more.
Dj's: Joost van Bellen, Funkerman, Lucien Foort, Clark Kent (DE), Soulvation, Dionysius, Green (DE), Ben Manson (FR), Alex Kaseta, Chriss Source (DE), Prisz, Killian Sawn, Diva Mayday, Krien and more …
VISUALS: Kabinet Azar, Run Paint Run and more
SHOWS: Special Beastly edition Fashion show, Opening show by Dennis Diem, House of Punk (ES), Succuba Pegula & Friends (DE), The Puppeteer, Shibari installation by Benjamin Langholz (AU),The Vipers Squat, House of Olifanttakeover, The Villbergs (SE), Go-Go Fuckers, Mrs Hibiki (JP), Mystic Tribes (FR), and much more ….
BUS SERVICE : We provide a shuttle bus service between Amsterdam city centre and the venue. The shuttle service will go to and from the venue all night long. Pick up is near the central station in front of the Barbizon Hotel – Pins Hendrikkade 59-72. Return ticket is 10 Euro (ex fee) Time 21.30 till 6.30
DRESS CODE :  Wasteland has a strict dress code. We expect our guests to expose creativity and fantasy into their outfits.
General dresscode:  Leather, Metal, Plastic, Latex, Fetish Glamour, Body Art, Fetish Animal, Fetish-Burlesque, Cross-Dress, Medical, Fetish Goth, Fetish Steampunk, Baroque, Uniforms. (Casual Street wear & combat army uniforms are NOT allowed).

THE DECISION OF THE BITCH IS FINAL!
The dress code is vigorously checked by our doorbitches. The door is actually the place where playing begins. There are no ticket refunds if the dress code is not adhered to.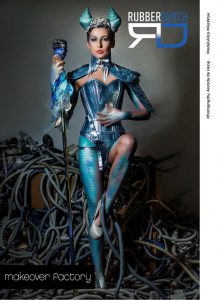 RubberDutch in collaboration with the Makeover Factory. Do you want to be transformed for Wasteland? Our services include rental of costumes styling and a makeup makeovers. If you are interested please contact us at: info@makeoverfactory.nl or rubberdutch@outlook.com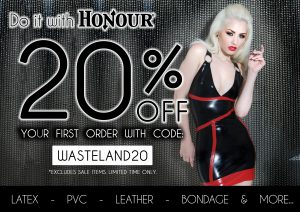 Honour offers a 20% discount. All you have to do is enter the code: WASTELAND20